Bushbeaters Ball raises a staggering £100,000 for the Whitby RNLI Lifeboat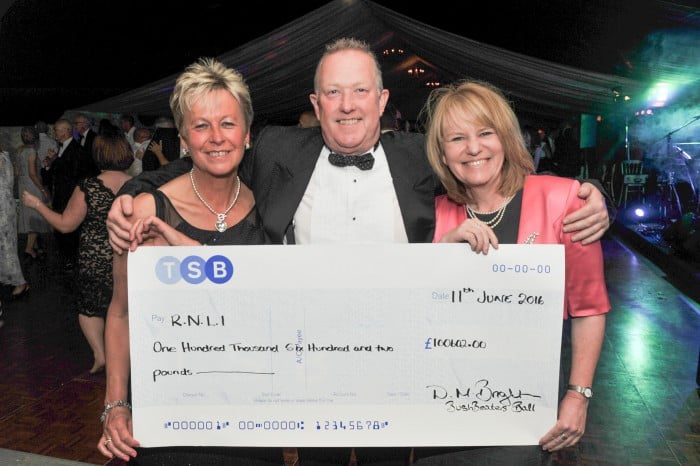 Delighted organisers of the 7th annual Bush Beaters Ball are riding on the crest of a wave after raising over £100,000 for the RNLI.
More than 400 people attended the charity ball held at the Warter Priory Estate on Saturday 11th June.
Organised by Dorothy Brighton, whose brothers Frank and Richard Croft are gamekeepers at Warter Priory Estate, the ball has grown in popularity since its inception in 2010.
In previous years, the ball has raised over £180,000 for charities including the Yorkshire Air Ambulance, the Stroke Unit at Hull Royal Infirmary and the British Heart Foundation. This year the total raised for the Whitby RNLI Lifeboat surpassed all expectations.
Dorothy told the Wolds Weekly: "It was an amazing evening and we are delighted that the running total on the evening was £100,602. It is a lot of hard work but worth all of the effort.
"We are very pleased to support the RNLI and Whitby coxswain Mike Russell has strong connections with the Warter Estate and attended the ball."
This year for the first time the money raised by the ball and the money raised during the clay shoots, supported by Will Healey from the Warter Priory Estate, was combined and is being donated to the same charity.
Guests to the ball enjoyed a champagne reception, three course meal, live band and disco, as well as a charity auction, raffle and heads and tails.
Dorothy added: "The ball has just got bigger and better over the years. We don't advertise but through word of mouth it has grown in popularity and already we have people wanting to book tables for next year.
"It is a very emotional evening for me and the money raised really does make a huge difference to the charities.
"I would like to say a huge thank you to everybody who supported and helped throughout the weekend."
Mike Russell, coxswain of Whitby RNLI Lifeboat, said: "On behalf of our volunteer crew, and indeed everyone at the RNLI, I would like to say a huge thank you to Will Healey of Warter Priory Estate, Frank Croft, Dorothy Brighton and all at Warter Priory for their tremendous support of the RNLI with the Bush Beaters Ball and Clay shoot over the weekend.
"We are completely overwhelmed by the generosity and hard work that went into making the event so successful. Originally we had hoped to raise enough money to fund a D-Class inshore lifeboat for Whitby Lifeboat Station, however the weekend of fundraising was so successful, not only will proceeds buy a new lifeboat for Whitby but also a second lifeboat for our charity's Seahouses Lifeboat Station on the Northumberland coast. Both lifeboats will help to save lives and enable our crews to provide their vital 24/7 search and rescue service."