Planning a visit to the coast? Here's a guide to the East Riding's stunning 85km coastline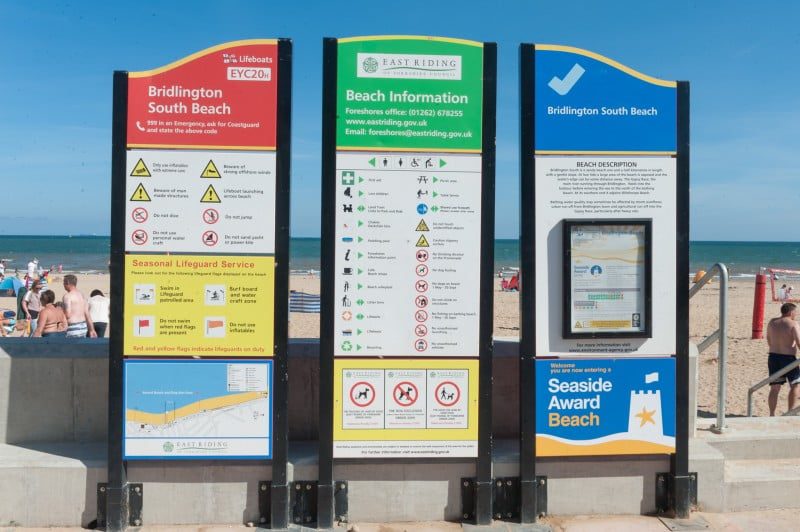 The stunning East Riding Coast stretches all the way from Bempton Cliffs in the North to the National Nature Reserve and unique coastal feature of Spurn Head.
A walk along Spurn, one of the UK's most fascinating landscapes, pushing three and a half miles out across the mouth of the Humber Estuary, is a bracing walk indeed, exposed as you are to the North Sea. Spurn Point is a popular site for migratory birds, perfect for birdwatching opportunities.
Bridlington is the ever-popular seaside resort and offers a host of activities for all the family come rain or shine. Traditional or modern – you will find all tastes catered for here together with a long-lasting appeal for visitors young and old.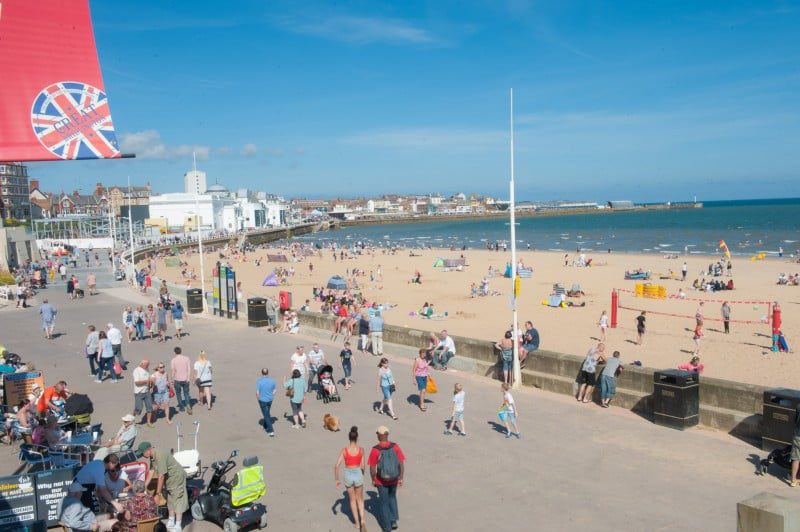 The picturesque beaches of the East Riding Coast continue south of Bridlington at Hornsea and Withernsea. Both are popular seaside holiday resorts and Hornsea also holds Keep Britain Tidy award status.
Hornsea serves as a more peaceful base compared to Bridlington's bustle but attractions are numerous. They include an award winning museum, the large Freeport shopping village just outside the town.
Hornsea's particular edge is its freshwater lake called Hornsea Mere. It is the largest freshwater lake in Yorkshire and is both a popular destination for bird watchers and a site for gentle water-sports such as rowing, fishing and sailing.
Withernsea's seaside promenade offers a host of amusements and the Pavilion Leisure Centre is seeing extensive renovations and promises a choice of swimming and leisure facilities. Withernsea's famous inland lighthouse is now a museum.
Built as a response to the numerous shipwrecks happening off Spurn Point, the lighthouse hosts exhibits about the Royal National Lifeboat Institution (RNLI) and local history.
The Bridlington Park and Ride service will commence from April until the last Sunday in September. For further information on the Foreshores please contact us through our email address: foreshores@eastriding.gov.uk

BEMPTON CLIFFS
Grid ref: 519626 473858 Marker post No. 5 Parking for 200 cars within the RSPB's car park. Charge to nonmembers, RSPB facilities open at specific times, check the website. Dramatic cliff top environment with no access to beach.
THORNWICK BAY
Grid ref: 523357 472009 Marker post No. 9 Parking for about 20 cars (a charge for parking may apply). Refreshments available during the summer. Access to the beach is via a very rough track, subject to the effects of coastal erosion. Extreme care is recommended in the area, not suitable for young children or the infirm.
FLAMBOROUGH NORTH LANDING
Grid ref: 523878 471945 Marker post No. 11 Parking for 150 cars. Small charge during the summer. Toilets (closed during the winter), café restaurant/ bar and shop. Designated bathing beach, accessed via a steep concrete slipway, care is required due to gradient. A sandy bay, rock pools, caves and chalk cliffs. In the summer boat trips are available.
SELWICKS BAY, THE LIGHTHOUSE, FLAMBOROUGH HEAD
Grid ref: 525373 470649 Marker post No. 14 Parking for 100 cars. There is a charge all year. Toilets open all year round. Refreshments and shop available during the summer. Beach accessed via a steep set of steps. Care required due to coastal erosion and land slippage. Lighthouse tours are available from April to October, details from Sewerby Hall and Gardens on (01262) 677874. For more details about Flamborough Lighthouse, visit: www.trinityhouse.co.uk
FLAMBOROUGH SOUTH LANDING BEACH AND LOCAL NATURE RESERVE
Grid ref: 453050 469522 Parking for 100 cars on upper level, there is a charge. No Parking at lower level except for RNLI and permit holders (fixed penalty charge). Designated Bathing Beach and Rural Beach Seaside Award area. Sculpture trail on upper level, access to beach via the cliff top path and steps or road from the car park. Low tide rock pools.
DANES DYKE BEACH AND LOCAL NATURE RESERVE
Grid ref: 521537 469503 Parking for 80 cars. There is a charge. Toilets open all year round. Small shop open during the summer /school holiday periods and some weekends – with adjacent picnic benches in grassed woodland area. Designated Bathing Beach and Rural Seaside Award. There are many trails here with an abundance of natural flora and fauna. Several tree trails are worth exploring. Take care with steps. Some walks may not be suitable for small children. Beach access is via a paved step pathway which is affected by water and debris which has run off from steep banks at either side.
SEWERBY STEPS BEACH ACCESS
Grid ref: 520189 468702 Marker post No. 20 Parking for 200 cars at Limekiln Lane cliff top car park (charges apply). There is a cliff top path from Bridlington to Sewerby steps. During the summer season use the Land Train service from central Bridlington to Sewerby. Sewerby Hall and Gardens/zoo and children's play area are well worth a visit.
WILSTHORPE
Grid ref: 517269 465045 Marker post No. 21 Pay and Display car park (closed during the winter). Designated Bathing Beach with toilets available all year round. Café facilities during the summer period. Access to the beach is via the concrete slipway. Other recreational activities in the area include boat launching, horse riding and kiting etc.
FRAISTHORPE
Grid ref: 516959 462788 Marker post No. 22 Vehicle access via private property, Parking for 100 cars. There is a charge during the summer and honesty box during the winter. Toilets open all year. Designated Bathing Beach, refreshments often available during the summer. Care is recommended due to debris from sea defence and World War II structures.
BARMSTON
Grid ref: 517047 459372 Marker post No. 23 Limited roadside parking. This Designated Bathing Beach has won a Rural Beach Seaside Award. Access to the beach can be gained from the north and south of Barmston. The sandy cliffs accommodate Sand Martins from April to September. Further information about this site can be found on the nearby notice board.
NORTH CLIFF, HORNSEA
Grid ref: 520674 448598 Marker post No. 28 Free parking on Morrow Avenue for 60 cars. Access to the beach is via a set of steps at the northern most end of Hornsea Promenade. Toilets and other amenities on the central promenade near Marine Hotel.
MAPPLETON
Grid ref: 522775 443804 Marker post No. 32 Free Parking for 50 cars but be aware of cliff top erosion in the car park. Access to the beach is via a tarmac slipway with a fairly steep incline. A lovely stretch of sandy beach between two granite rock breakwaters. Ideal for families and popular for all beach activities. You can have fun hunting for fossils washed out of the cliff but be aware of tide times and steep clay boulder cliffs.
SEASIDE LANE, TUNSTALL
Grid ref: 531347 431784 Marker post No. 34 Roadside parking. Designated Bathing Beach with Rural Beach Seaside Award. Access to the beach is via a natural sandy slipway. To the North is Cowden beach which forms part of RAF Cowden ranges. Care should be exercised with objects on the beach as items from the testing range and World War II have surfaced in the past. Information board and site details are available at this location.
SEASIDE ROAD, EASINGTON
Grid: ref: 540764 418748 Marker post No. 40 Free parking for 30 cars and picnic benches. Access to the beach is via a sandy slipway. Walk south along the beach and you will come across a beautiful lake trapped in the dunes. This is the start of the Spurn Peninsular.
THE BLUE BELL CAR PARK, KILNSEA
Grid ref: 541740 415885 Free parking for 20 cars and toilets open all year. Blue Bell café and Spurn National Nature Visitor Centre open during the summer, providing local details on events, access and conservation issues on the east coast and the Spurn Point nature reserve.
KILNSEA – EASINGTON ROAD
Grid ref: 540968 415827 Free parking for 10 cars. Kilnsea is a tiny village that boasts lots of history and amazing views across the Humber Estuary.
SPURN NATIONAL NATURE RESERVE
Grid ref: 540179 411128 The reserve is owned and managed by the Yorkshire Wildlife Trust (YWT). There is an entrance fee per car for new members. Access is by a single-track road with passing points. Parking is allowed in designated areas at various locations. There are toilets and during the summer months, refreshments are available. Dogs are NOT allowed on the YWT site at any time and must be kept on a lead whilst using East Riding of Yorkshire Council public rights of way in the area. The protection of wildlife habitats and wetlands offers opportunity for bird watching and other pursuits.
HESSLE FORESHORE
Grid ref: 502222 425484 Free parking for 100 cars along the Foreshore and at the Old Black Mill. Toilets next to the Black Mill with small children's play area, the Humber Rescue Boat House and restaurant/hotel in close proximity. Dogs must be on a lead at all times. Riverside walks, with views of the Humber Bridge and river traffic from the water's edge. Adjacent to the Foreshore is the Humber Bridge Country Park, several acres of natural fauna and flora accessed by a network of footpaths with family picnic areas. The area is also a great place to explore the Wolds Way or Trans Pennine Trail both of which are linked to the park and foreshore.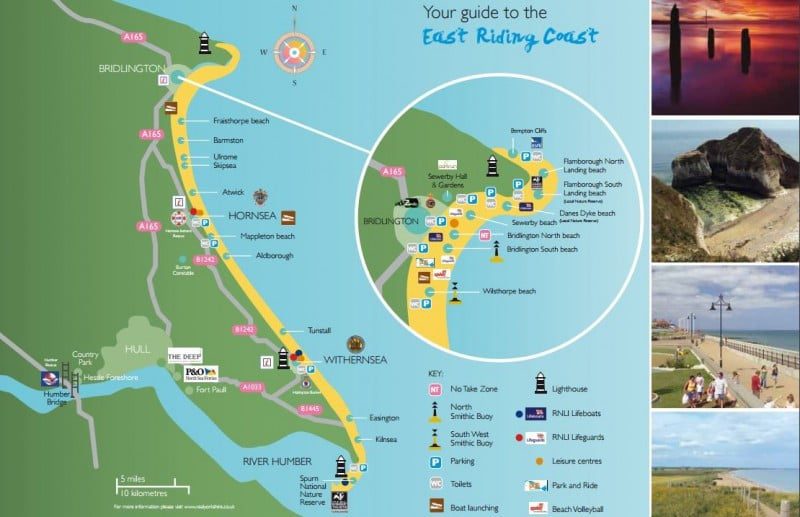 BEACH USERS – SAFETY ADVICE
• Read the safety/public sign/bathing flag notices. They are there for your safety.
• Where lifeguards operate you are required to follow their instructions and advice.
• Respect the beaches/coastline and other people using the area.
• Check the tide times and the weather forecast before your visit and be aware of your access and exit from the beach.
• The sun's rays can be intensified by the sea and can cause certain forms of skin cancer. Avoid exposure to the sun by protecting sensitive areas, use plenty of sunscreen and wear an appropriate hat.
• For your health and safety do not enter the sea or remain on any part of the beach designated as a boat-launching channel.
• Do not obstruct the launch access of the lifeboats at Bridlington, Flamborough, Withernsea or Hornsea's inshore rescue boat.
• Motorcycles, quad bikes and other off road vehicles are not permitted on any beach.
• The lighting of fires, gas stoves or gas barbecues should not take place and permits to stage special events are issued via the foreshore office.
• Report any suspicious items to the coastguard/police, e.g. munitions, pollution or unidentified objects that may have washed ashore. For your own safety do not touch them.

The East Riding of Yorkshire coastline is diverse in its make up, stretching from the chalk cliffs of Bempton and Flamborough Head, through to the Holderness plain with boulder clay and sandy dunes and then along to the wetlands of the Humber Estuary.
If you fancy something a little different from the traditional seaside towns of Bridlington, Hornsea and Withernsea, try visiting some of the alternative rural beaches, using the following access points, to explore our beautiful coast and many varied habitats.
Many of the access points listed have been adopted by volunteers and local community groups. Many sites enjoy frequent beach clean up events, as part of an environmentally friendly initiative in conjunction with the Marine Conservation Society and Keep Britain Tidy, supported by local town and parish councils.
As a result several have been awarded a Rural Beach Award in the past and some have been awarded a Quality Coast Award.
At some sites you will find a host of information about the area, posted on notice boards together with other local information and contact numbers, to assist in seeking further information or to report vandalism, erosion and debris. Regretfully, not all sites have car parking and some sites have a small charge.
It is advised that you check in advance and be mindful not to obstruct access or egress from the area. Remember to secure all valuables and please be kind to animals – do not leave your dog in the car.
Please keep animals under control at all times remembering you are in a rural area that can contain wildlife and sometimes farm animals. Dog restrictions are in place in some areas.
Please do not obstruct farm gates or private access ways and if you should go walking along the cliff tops, Follow the country code. Much of the land around these areas is private land (see Walking the Riding on the council website).
Should you decide to take a stroll along the many miles of cliff top or coastal paths you need to be mindful of erosion and the effects this can have on access points to some beaches and walkways.
Always wear sensible clothing and footwear. Along footpaths and at various viewing points around Rural beaches, you will come across marker/identification/location posts, marked 'East Riding of Yorkshire Council' and a number.
The coastguard have records of exactly where these marker posts are and are used to identify a particular location for all emergency services. Should you identify a problem, incident or wish to report something to anyone, dial 999 asking for the coastguard, quoting the post number and explaining where from the point the problem has arisen. This will assist in ensuring a prompt and accurate response from the emergency services.
Please be safe:
• Do not take short cuts.
• Always watch the tide.
• Sea defences are for protection and not for playing on.
• Respect the beach and surrounding areas.
• Take care with what you touch or pick up on the beach.
• Always report problems. Certain areas and parts of the coastline suffer from the effects of erosion. Be aware and take care at all times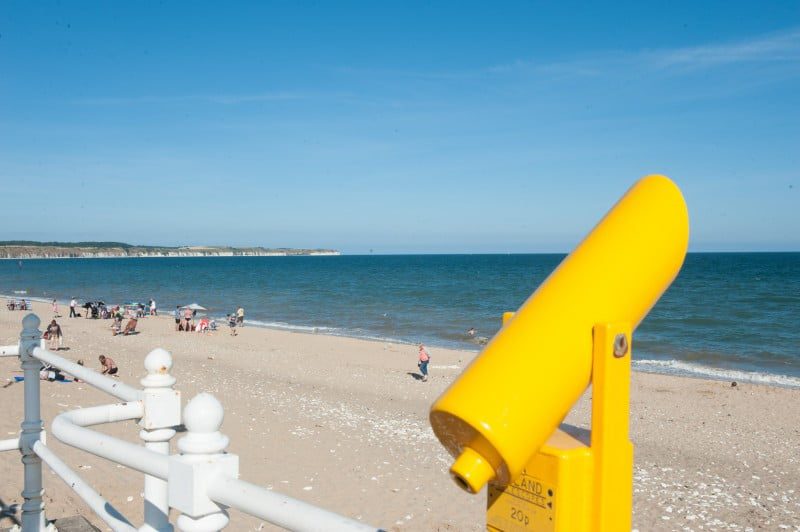 Download the East Riding of Yorkshire Council's Coast Saftey Guide :-