Safety fears for children at site of former cattle market
By Sam Walker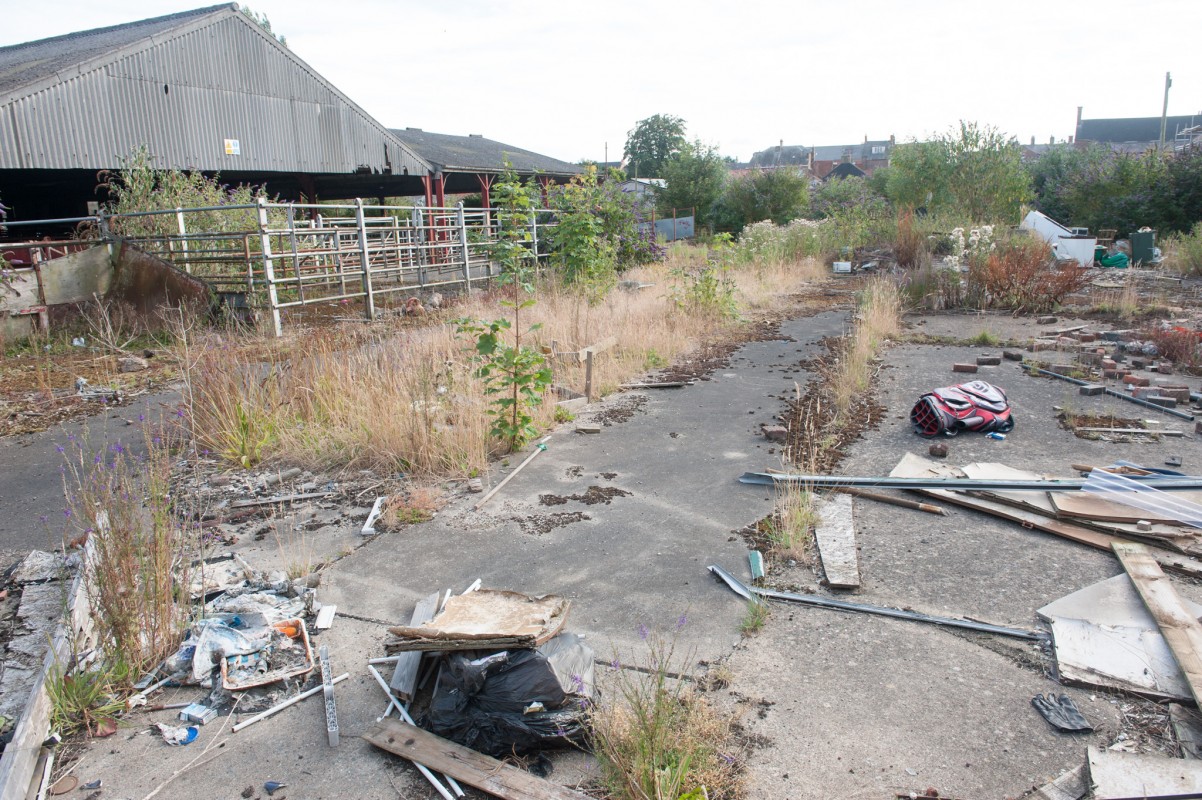 A Driffield woman has voiced her concern over the safety of young children after she came across piles of needles in the vacant Driffield Cattle Market.
Jean Bilton came across the needles last Thursday afternoon whilst walking passed and hearing some children inside. When she went to investigate, she was horrified at what she found and immediately feared for the safety of others in Driffield.
Jean told the Wolds Weekly: "I heard some children inside the cattle market when I was walking passed coming from Market Place.
"I'd walked through the snicket next to the Old Falcon pub and could clearly see an entrance into the building.
"The children scarpered when I entered and I couldn't believe what I found.
"I really do hope that no-one gets hurt as I have grandchildren myself and I am now concerned over their safety. I don't know whether the needles had been used or not but it's the first time I've ever seen anything like this in Driffield before.
"I've no idea who left them there but someone needs to clear it up soon."
Jean voiced her concerns to the Driffield Town Council (DTC), with the matter now passed onto the East Riding of Yorkshire Council (ERYC).
It has also been noted that on entry, there are no signs stating that the land is private and that trespassers will be prosecuted, offering no deterrent to anyone wishing to go inside. The cattle market land is owned by several different organisations, including Tesco, with the ERYC owning the free car park and the Beckside car park being privately owned.
The cattle market building itself is owned by Albourne Estate, which has a registered address in Hassocks, West Sussex.
ERYC Cllr Symon Fraser is a ward councillor for Driffield and Rural and has repeatedly pushed for a development of the area. He said: "The land has been an eyesore since it was sold in 2001 and it's a shame that the private landowners who bought it haven't delivered.
"We've been working for a long time to get the Driffield Cattle Market redeveloped but unfortunately progress is very slow.
"If there's anything we could do to encourage progress, we'd do it, but you can't force them to do anything. "There has been proposals put forward previously which have been objected by some such as the DTC.
"Recently, I wrote to the CEO of a supermarket chain who was quoted saying they had an investment programme about a project in the north of England.
"We asked if they had any plans regarding Driffield but as yet I have not heard back from them.
"Mr Andrew Johnson is the gentleman who's name is on the documents from Albourne Estate and I'm sure if he's made aware of the fact that the site is becoming unsafe he would make sure it was secure."
As mentioned, the DTC passed the concerns of Jean to the ERYC and they are also keen for development to go ahead on the land. In response to Cllr Fraser's allegations that they objected to any proposals from planning on the cattle market, Town Clerk Claire Binnington had this to say.
"The Town Council have contacted Public Protection at ERYC to inform them of the needles," she told the Wolds Weekly.
"On inspection of the photographs, it would seem that perhaps people are emptying sharp boxes rather than disposing of their needles in the correct and legitimate manner.
"The Cattle Market and the whole of the Driff 9 area have been subject to various planning applications since 2003, applications that have largely involved supermarkets.
"The Town Council have objected to these in the past. However, they were given approval by the ERYC and as yet no development has taken place.
"The Town Council at the time believed that whilst development was essential for this area, it had to be the right proposal and not just development for developments sake.
"
Even so, despite permissions being given, we still have not moved forward in 13 years. "Economic forces have been the major player here and probably the fact that the supermarkets, who originally were keen to come, have realised what the Town Council said all along – that our 'shopping basket' simply is not big enough to sustain two huge supermarkets going up against each other – was right.
"We have asked to liaise with the owners to see what can be done in the short term but they do not wish to communicate with us and discuss ideas."
Andy Rafter, owners of the greengrocers Rafters which backs onto another derelict building near the cattle market, told the Wolds Weekly he has previously been in touch with Albourne Estate. He said: "I've been in touch with them before about maybe flattening the lot to make more parking but they won't do that as it's not commercially viable for them.
"The state of it down there is absolutely shocking. "I spoke to a lad from a company employed to remove dangerous waste a while back about the situation.
"He was clearing up the mess at Ivy House Glass behind my shop and he said he couldn't believe how bad it was both there and at the cattle market." Albourne Estate made no comment following contact from the Driffield & Wolds Weekly.