Road closure details for tomorrow's Plusnet Yorkshire Marathon
Expect road closures and diversions on the A166 at Stamford Bridge and the A1079 going into York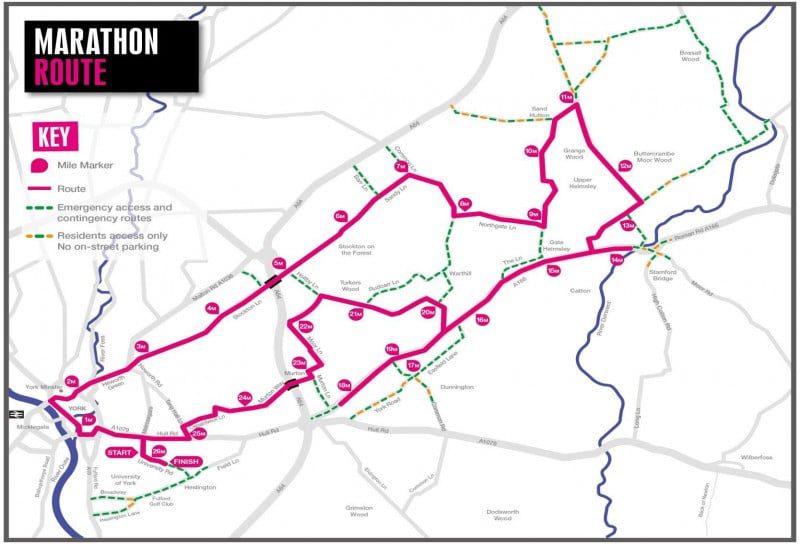 The organisers are now informing runners, spectators, residents and visitors of a number of road closures and restrictions that will be in place to ensure the safety of all those involved in the marathon, 10 mile and relay events
.
The marathon starts and finishes at the University of York's Heslington campus. Its route travels through the historic city centre – passing through the medieval walls – and takes runners north eastwards out of the city.
Participants will travel through, or close by, Stockton on the Forest, Grange Wood, Upper Helmsley, Stamford Bridge, Gate Helmsley, Turkers Wood, Murton, Osbaldwick and back towards Heslington.
To allow organisers to begin setting up the extensive event village, University Road, in York, will be closed between Innovation Way and Green Dykes Lane on Saturday October 8th from noon. It will re-open at 9pm on Sunday October 9th. Elsewhere, closures on the Sunday will begin from 6am and will affect roads around the 26.2 mile course.
Roads will re-open on a rolling basis, as soon as it is safe to do so.
City centre roads affected by the closures include: Walmgate, Hope Street, Leadmill Lane, Piccadilly, Parliament Street, Blake Street, Duncombe Place, Deangate, Goodramgate and Monkgate.
Further afield, Heworth Green A1036, Stockton Lane, The Village, Common Lane, Northgate Lane, Holtby Lane, Murton Way, Bad Bargain Lane and Osbaldwick Lane will be among those affected.
The Plusnet Yorkshire Marathon Event Director Charlie Tatman said: "We look forward to welcoming all those taking part in the marathon and the 10 mile event.
"Unfortunately with an event of this size a certain amount of disruption is inevitable and we would like to apologise in advance for any inconvenience caused. All closures, which are necessary for the safety of all those involved, will be lifted as soon as possible."
Thousands of leaflets are being distributed to homes and businesses along the route advising them of the road closures.
More details on the closures can be viewed here: 
http://www.theyorkshiremarathon.com/media/61235/yorkshire-marathon-road-closure-poster-final.pdf