Ewe-FOUR-ia on Brandesburton farm
By James Richardson
There was a shock in store for Brandesburton farmer Howard Pickard early last Wednesday morning.
Having awoken at 1:15am to assist one of his pregnant ewes with what he expected to be a routine birth, the 23-year-old was flabbergasted when he discovered not one, not two but four lambs in the womb.
With just a 1 in 1,000 chance of quadruplets being born, it is an extremely rare occurrence and even more remarkable is the fact that all four lambs survived and are in extremely good health at Manor House Farm, where Howard and his partner Laura Poole house their 120-strong flock.
Howard told the Wolds Weekly that after safely delivering the first three lambs, he couldn't believe what was happening when he felt a fourth set of legs inside the North Country Middle Cross Suffolk ewe.
"I came out of the house in the early hours of Wednesday morning and the first lamb was breeched, so I had to pull that one out," explained Howard. "The second was fine but then the third lamb was also breeched and just as I was turning it around inside, I felt something else and realised it didn't feel the same as it normally would.
"As I got the third one out, it was a really small lamb, I still knew something wasn't right, so I had a feel around and I couldn't believe it when there was another set of legs.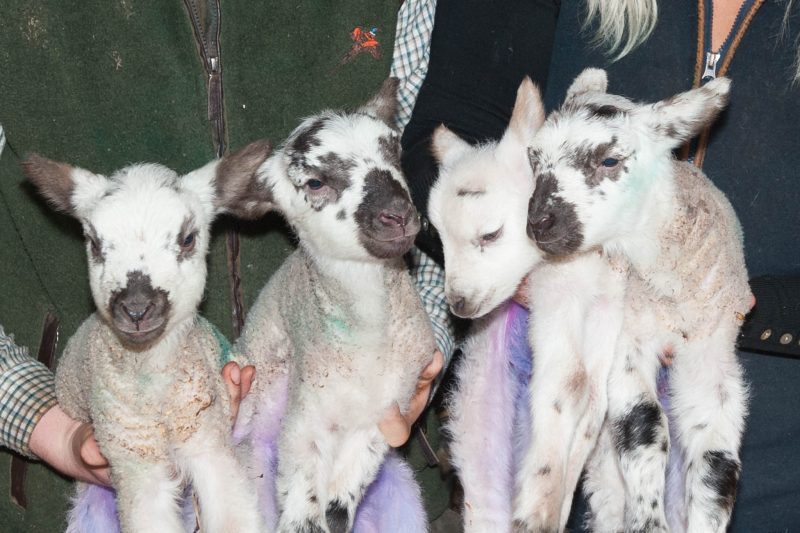 "I managed to get it out and I'd left Laura in bed because it was my turn to go out, but I had to ring her. When she came through the door, I told her to come and have a look and she couldn't believe it either.
"Within ten minutes, all four lambs were up and having a feed and they've been fantastic. They're all lovely and doing well.
"We've lambed 25 ewes and we've got 55 lambs up to now, but we've still got 120 to get through. We've done well.
"She (the sheep who gave birth to the quadruplets) was bought from Frank Hill and Sons at Dunswell cattle market, who have been really good to us.
"She came from a farmer in the Holderness area. She's a North Country Middle Cross Suffolk ewe and we used a Lleyn tup (ram) from Hornsea which was also bought from Dunswell cattle market last September.
"So, all the sheep have been on the farm, nothing fancy, we were just really surprised when the lambs came out and there was four of them."
The number of lambs soon rose to 57 lambs when whilst he was relaying his story to us, Howard realised that another of his ewes was ready to give birth and two further newborns were delivered in front of our reporter and photographer.
Unsure as to what the secret to his success has been, Howard declared he will be sticking with his tried and tested methods next year.
"They've all been on things that we have grown on the farm – barley, peas," he said.
"We've grown fodder beet for the first time this year and that seems to have worked. It's made them milk well.
"It's fantastic. The breed was a bit of an underdog to me, the Lleyn tup, but I'm more than likely to have them again next year because I don't believe in changing something that has worked. It's worked, so why change it? The lambs are fantastic, they've done well. They're good."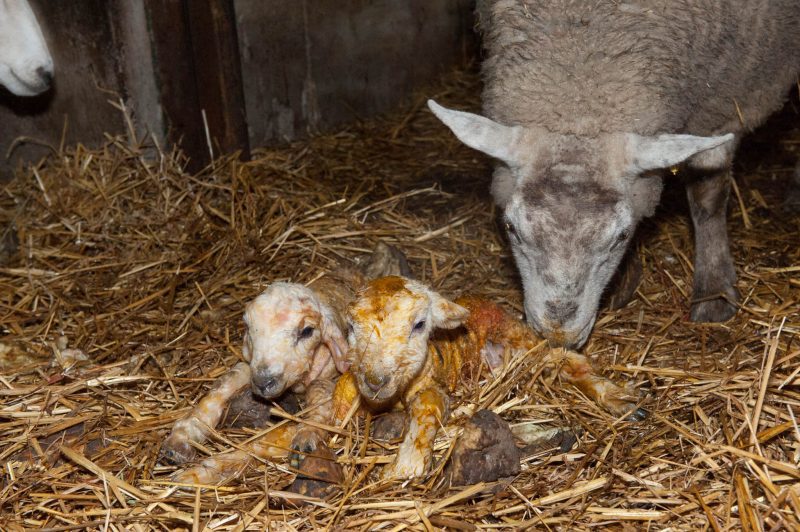 Although it has been Howard who has been kept busy delivering the lambs, he told us that Laura, 27, has done most of the work in tending the sheep.
"It's our first year together. I met Laura last autumn. She's from Helmsley originally and I was up there shooting.
"I met her up there and brought her down here, bought her a load of sheep and it's gone from there. She's done 90% of the work and I've just overseen it," said Howard.
Farming and sheep have been mainstay's in Howard's family since his grandad rented Manor House Farm in the 1940s and after reintroducing a small intake of sheep after a ten-year absence in 2016, the plan is to extend again during the next farming year.
"My grandad, Basil Aconley, rented the farm in 1940 and in 1945 he was given the chance to buy it, which he did," Howard continued.
"In those days, he had 120 sheep and in between those five years, the wool from the sheep paid for the rent on the farm. Nowadays, it will maybe get you a dozen pints. It's terrible.
"We've always had sheep on the farm until around ten years ago, when we got rid of them, but we've just got them back. We had 15 last year and this year that has risen to 120.
"My grandad has had sheep all of his life. They were an important part of the farm then and as time has gone on, we've extended on the arable side and we've got more cattle and also pigs now.
"To our knowledge, we don't think there have ever been quadruplets born on the farm. I've asked my grandad and he's seen a few lambs in his time but we think it's the first time here.
"To be honest, I don't know anybody around here who might have had four. But, there isn't the sheep around here like there used to be. Every farm around here used to have a flock of sheep and it's gone now. But I believe it's coming back. It's sustainable farming and people are learning that you can't farm as well without any livestock. You need it.
"Sheep are a fantastic animal to have. They suit the land, fit the rotation and it's a nice, pleasant job at what would be a quiet time of year. So, we've expanded and we'd like to expand again next year."