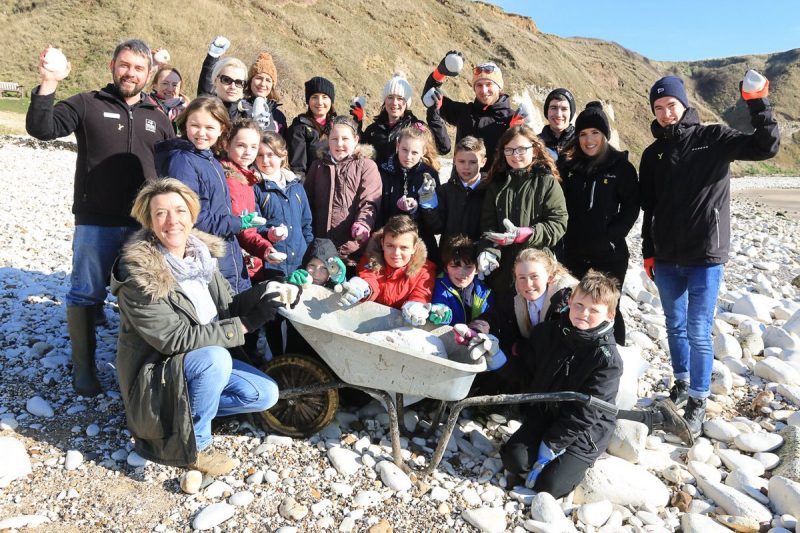 Children from Flamborough Primary school have been helping Welcome to Yorkshire start work on their most ambitious Chelsea show garden yet.
They've been collecting pebbles from a Yorkshire beach which will be taken down to London to recreate a genuine slice of the Yorkshire coast in the heart of the Capital.
The collection at Flamborough South Landing marks the official start of preparations for the 2017 garden, named "Welcome to Yorkshire".
Up to 2 tonnes of the unique pebbles found near Flamborough head are being borrowed from South Landing, one of the very locations that inspired this year's garden.
The chalk pebbles are distinct as many have neat, cylindrical holes in them made by piddocks. The small mussel like sea creatures live on the lower shore and burrow into soft rocks, like chalk.
Experts from the Yorkshire Wildlife Trust's "Living Seas Centre" will be on hand to explain more about the area to the pupils and emphasise the need for the pebbles to be carefully checked for tiny sea creatures during the collection.
Garden Designer Tracy Foster said: "The pebbles found on the beach at Flamborough are so unique that there's really no way to replicate them. To make this year's Welcome to Yorkshire Chelsea Show Garden truly authentic, and as wonderful as the coastline that inspired it, the best way is to literally take some genuine pieces of Yorkshire down to London."
Chief Executive of Welcome to Yorkshire Sir Gary Verity said: "This is a wonderful way to get the community involved in our garden and for the children to learn more about our fantastic coastline.
"We're hugely grateful to Flamborough Primary school for their help and to Natural England and East Riding Council for allowing us to borrow the pebbles so we can show the true beauty of Yorkshire to the world. We promise to take good care of them."
Anthony Hurd, manager at Yorkshire Wildlife Trust's Living Seas Centre said: "The Yorkshire coast is truly spectacular and recognised internationally for its wildlife and marine environment.
"It will be amazing to see a small corner of Yorkshire shoreline brought to life in the heart of London, and we're delighted that the garden build team have sought permission and will ensure the pebbles will be returned to the very same beach afterwards, where visitors can enjoy some of the best rock pooling around!" At Chelsea, Welcome to Yorkshire has previously won a Gold Medal, five Silver Medals, one Silver Gilt Medal and six People's Choice Awards.JTNDYmxvY2txdW90ZSUyMGNsYXNzJTNEJTIydHdpdHRlci12aWRlbyUyMiUyMGRhdGEtbGFuZyUzRCUyMmVuJTIyJTNFJTNDcCUyMGxhbmclM0QlMjJlbiUyMiUyMGRpciUzRCUyMmx0ciUyMiUzRUElMjBsaXR0bGUlMjB2aWRlbyUyMGZyb20lMjBvdXIlMjB0cmlwJTIwdG8lMjBGbGFtYm9yb3VnaCUyMHllc3RlcmRheS4lMjBUaGFua3MlMjAlM0NhJTIwaHJlZiUzRCUyMmh0dHBzJTNBJTJGJTJGdHdpdHRlci5jb20lMkZURkdhcmRlbkRlc2lnbiUyMiUzRSU0MFRGR2FyZGVuRGVzaWduJTNDJTJGYSUzRSUyMCUzQ2ElMjBocmVmJTNEJTIyaHR0cHMlM0ElMkYlMkZ0d2l0dGVyLmNvbSUyRllvcmtzV2lsZGxpZmUlMjIlM0UlNDBZb3Jrc1dpbGRsaWZlJTNDJTJGYSUzRSUyMCUzQ2ElMjBocmVmJTNEJTIyaHR0cHMlM0ElMkYlMkZ0d2l0dGVyLmNvbSUyRllXVExpdmluZ1NlYXMlMjIlM0UlNDBZV1RMaXZpbmdTZWFzJTNDJTJGYSUzRSUyMCUyNmFtcCUzQiUyMHRoZSUyMGtpZHMlMjBvZiUyMCUzQ2ElMjBocmVmJTNEJTIyaHR0cHMlM0ElMkYlMkZ0d2l0dGVyLmNvbSUyRmZsYW1ib3JvcHJpbWFyeSUyMiUzRSU0MGZsYW1ib3JvcHJpbWFyeSUzQyUyRmElM0UlMjElMjAlM0NhJTIwaHJlZiUzRCUyMmh0dHBzJTNBJTJGJTJGdC5jbyUyRmVKd1RJNldEMGMlMjIlM0VwaWMudHdpdHRlci5jb20lMkZlSndUSTZXRDBjJTNDJTJGYSUzRSUzQyUyRnAlM0UlMjZtZGFzaCUzQiUyMFdlbGNvbWUlMjB0byUyMFlvcmtzaGlyZSUyMCUyOCU0MFdlbGNvbWUyWW9ya3MlMjklMjAlM0NhJTIwaHJlZiUzRCUyMmh0dHBzJTNBJTJGJTJGdHdpdHRlci5jb20lMkZXZWxjb21lMllvcmtzJTJGc3RhdHVzJTJGODM3MzQxNTI0MTQ5MDQzMjA0JTIyJTNFTWFyY2glMjAyJTJDJTIwMjAxNyUzQyUyRmElM0UlM0MlMkZibG9ja3F1b3RlJTNFJTBBJTNDc2NyaXB0JTIwYXN5bmMlMjBzcmMlM0QlMjIlMkYlMkZwbGF0Zm9ybS50d2l0dGVyLmNvbSUyRndpZGdldHMuanMlMjIlMjBjaGFyc2V0JTNEJTIydXRmLTglMjIlM0UlM0MlMkZzY3JpcHQlM0U=