3000 flock to the 59th annual Pock 7's rugby tournament
Pictures by Mike Hopps
The 59th John Smiths Pock 7s came down to a Yorkshire v Lancashire student finale, with Leeds Beckett University defeating Manchester Metropolitan University 24-14 in a keen tussle to put a new name on the WS Fowler Challenge Cup.
Once again close to 3,000 people packed into Percy Road for the event to enjoy six hours of non-stop rugby between a mix of club, student and invitation sides. The crowd included former Pocklington residents on an Easter homecoming from as far away as Australia, America and Canada plus all parts of Britain.
Leeds and Manchester provided a final worthy of the occasion that could have gone either way. Leeds' determination just edged it with Manchester twice making clean breaks and looking likely to score but Leeds tracking back to make the tackle, turn over possession then counter attack for a try at the other end.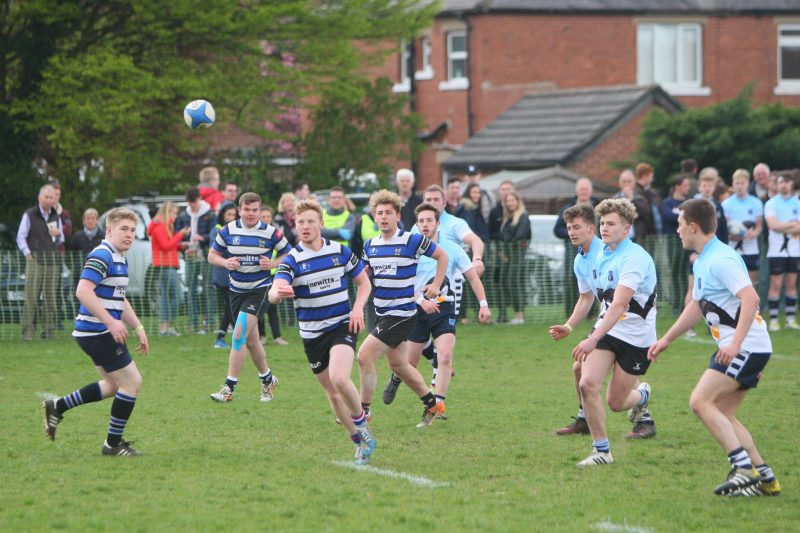 There were a couple of last minute cancellations, but they were soon forgotten as the day produced several nailbiting encounters and the odd surprise.
Driffield had a good 24-5 win over local invitation side, East Yorkshire Penguins, but came up well short in the next round against 2013 winners, Bishop Burton College, by 38-0.
Woldgate Old Boys shocked their senior hosts, Pocklington, to knock them out 21-17, then the Woldgate boys pushed Manchester all the way before being pipped 17-10 in the quarter finals. Bishop Burton also trod a close and exciting path, just getting past favoured Newcastle students, Northern Exiles, 15-14 before a end to end battle in the semis with Leeds Beckett saw Leeds snatch a 21-17 cliffhanger.
The Plate competition was equally well contested with club sides Malton & Norton, Bridlington and Pocklington all being involved in nip and tuck games. But at the end of the days it was a 'works team' from Warter based poultry business, Wot-A-Pullet, which employs a number of useful rugby players, that beat Old Hymerians 29-14 in their final to lift the newly refurbished MB Herring Plate.
The trophies were presented after the finals by Heineken UK regional sales director, Duncan Barlow.
Results
First Round:
Old Pocklingtonians 17 Ionians Last Minute 15
Hymers Presidents 31 Three Feathers 10
Malton & Norton 10 Hull Ionians 14
Woldgate OB 26 Old Hymerians 7
Driffield 24 East Yorkshire Penguins 5
York Saints 34 Goodemanham 17
Beverley 24 Bridlington 12.
Second Round:
Queen's Own Yeomanry 0 Hymers Presidents 56
Manchester Met University 36 Hull Ionians 0
Pocklington 17 Woldgate OB 21
Bishop Burton 38 Driffield 0
Northern Exiles 31 Wot-A-Pullet 10
Leeds Beckett University 45 York Saints 5
Brookfield 22 Beverley 26.
Quarter Finals:
Old Pocklingtonians 21 Hymers Presidents 28
Manchester Met University 17 Woldgate OB 10
Bishop Burton 15 Northern Exiles 14
Leeds Beckett University 33 Beverley 0.
Semi Finals:
Hymers Presidents 0 Manchester Met University 50
Bishop Burton 17 Leeds Beckett University 21.
Final:
Manchester Met University 14 v Leeds Beckett University 24.
Plate Competition
Ionians Last Minute 19 Malton & Norton 20
Old Hymerinas 24 Pocklington 17
Wot-A-Pullet 24 Goodemanham 17
Semi Finals:
Malton & Norton 5 Old Hymerians  45
Wot-A-Pullet 35 Bridlington 29.
Final:
Old Hymerians 14 Wot-A-Pullet 29