Funeral of Mike Nicholson to take place tomorrow at Beverley Minster
'An amazing man who will be missed by all'
Warm and heart-felt tributes have been paid to the popular, well-loved and respected Beverley man Mike Nicholson who sadly passed away last month.
The former school teacher and well-known race walker died suddenly after falling ill whilst attending a service at Beverley Minster on Thursday 4th January.
His funeral is due to be held at the Minster at 4pm tomorrow (Tuesday 13th February 2018).
Mr Nicholson was a dedicated and active member of the Minster, who attended services every day.
He was a founder member of the breakfast club and helped to set up and run the youth café.
His friend of 36 years Andrew Hancock said Mike was a big part of the Minster.
He said: "Mike was a very gregarious, outgoing and extremely friendly person. He was the sort of person who would get along with anyone – young and old.
"He would always do anything he could to help anyone with anything. He was a big part of life at Beverley Minster, but also at St Leonard's Church at Molescroft. He would join us carol singing and would often make up his own very humorous lyrics to some of the carols."
Friend Kevin Hara added: "Mike was a big part of the youth café and would do anything to help set up and run the sessions.
"He enjoyed working with younger people and encouraging them to become involved with all aspects of the church.
"He would always attend morning or evening prayer and was extremely supportive during the interregnum when we were without a vicar and he will be missed greatly at church."
Mike's passion for nurturing young people came from his many years working as a teacher at Wolfreton School and Sixth Form College in Willerby.
An inspirational teacher and a legend who made learning fun are just some of the comments from his former students.
A statement from the school described Mike as an inspiration to all those who were associated with him.
The statement read: "Mike was a great servant to Wolfreton for so many years in so many different ways.   His selfless efforts benefitted many young people and we know many will always be grateful to have worked with and learned from him.
"From 1971, when he first began working at Wolfreton to long after his retirement, Mike played a huge part in the life of the school. Given Mike's numerous areas of expertise his contributions were wide ranging.
He was heavily involved in athletics, cross-country, rugby and music, providing countless hours of support and advice to students.
"Wolfreton athletics and cross-country teams were accompanied by Mike to local, regional and national events all over the UK. Mike was more than a teacher, he was an organiser and officiator, in fact every role imaginable.
"In 2013, Mike won the high profile Real Rugby Hero Award, run in conjunction with the national Schools' Cup, awarded to those who have made significant contributions nationally to the sport in a variety of ways.
"Mike travelled all over the region with the Wolfreton School rugby team providing support. He was invaluable as he had great in-depth knowledge of the game and he genuinely cared about the students, the school and school sport.
"Other than his proficiency in numerous languages including French, German and Russian, his other main interest was music and the performing arts. Over the years he wrote the script for several pantomimes staged by school staff. He joined the orchestra in many school events including the Christmas Concert in December 2017, often having composed or arranged specific pieces of music and took part in the school's Official Opening Evening last June.
"Mike Nicholson inspired so many individuals throughout his long association with Wolfreton."
One of Mike's passions was athletics and in 2012, following his many years of service as both Secretary and Treasurer of East Riding and Humberside County Schools Athletic Association, he was selected to take part in the Olympic Torch relay through Beverley.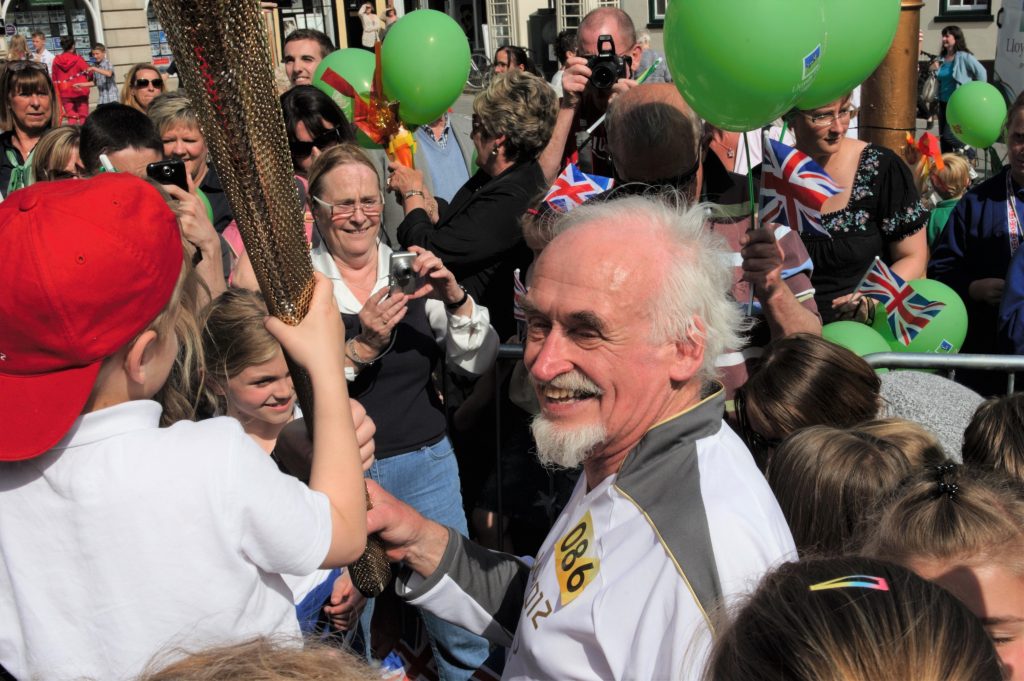 He was also the oldest competing member of Kingston Athletics Club, where he was a race walker.
As a huge ambassador to sport, Mike dedicated much of his time to coaching and mentoring young athletes at Costello Stadium in Hull.
Neil Margerison, Leisure Manager at Costello Stadium, said: "I have had the pleasure of knowing Mike since 1994, he was a fantastic man in every respect!
"You would see Mike around the facility at all times of the day coaching athletes, giving words of encouragement and wisdom to all, he was a very articulate, well respected, knowledgeable, proud gentleman whose company it was a pleasure to be in.
"Mike inspired so many people, he would not only organise athletic events, you would see him judging, coaching, hear him shouting words of encouragement from the tannoy system, he was a genuinely nice very well educated man who will never be replaced and greatly missed by all who knew him."
Andrea Kerry, whose children, Sian and Shaun, train at Costello, added: "Mike was a very special character who took a keen interest in how the young athletes were doing.
"He was always very supportive of Sian and Shaun and made time to speak to them, offering words of encouragement and support. They were both really upset when I told them, both said competitions won't be the same without him.
"He was an amazing man who will be missed greatly by us all."
Mike Nicholson's funeral will be held at Beverley Minster tomorrow
Tuesday 13th February 2018, 4 pm
No flowers please, Donations for Beverley Minster PCC.